Which breast pump to purchase in 2021?
When it comes time to make a decision about which breast pump to purchase, consider these highly rated options. Ultimately, it comes down to your personal comfort and usability. We are confident that you will find the best at the top of this list.
Cherishal Hands Free Breast Pump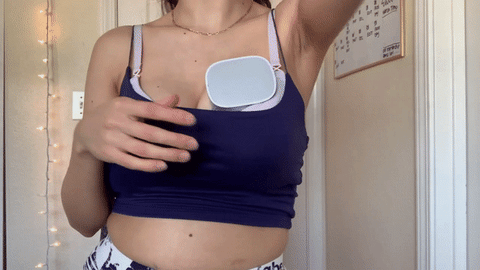 This highly affordable wearable breast pump from Cherishal presents the best option for mothers who do not believe that paying more means you get more. For just $59.99, you get a comfortable, flexible silicone cup with secure attachments and a small and quiet motor powerful enough to pump as needed. It offers nine different suction levels and two helpful pumping modes for sufficient customization for your needs.
1 – Easily Wearable – Although the small motor may cause a bulge under clothing, the cup portion slips easily into most bras. This wearable pump design makes it simple for you to hold your baby, cook dinner, work at your computer, or simply relax for the duration. This helps with keeping things discrete, too.
2 – Super Easy Transfer and Cleaning – Some other wireless breast pumps use bags to collect the milk. Transferring it to a bottle for your baby to drink can be difficult or cause waste because it is hard to get it all out of that container completely. This breast pump collects milk in a 100 milliliter cup contained safely with in the mechanism. All you have to do is pour it into the bottle, wash it well, and set everything up for the next time you need to express milk.
The Cherishal wearable breast pump is an amazing option for mothers who do not want to spend a lot for excellent customization options, hands-free comfort, ease of use, and recharge ability.
Freemie Liberty Wearable Breast Pump
Although the Freemie Liberty pump system offers many of the same benefits as our favorite Cherishal option, it does so at a premium price. The silicone cups offer comfortable attachment with over 100 different settings for suction and pumping power to choose from. While this offers a comprehensive host of benefits for a busy mother, the overwhelming choices may get in the way of convenience. You may need to experiment for quite a while to find the settings that work best for you.
1 – Adjustable Timer – One of the features of the Freemie Liberty wireless breast pump not found in other models is an automatic timer setting. You can select operation anywhere from five minutes to forty minutes with an automatic shut off at the end. This offers women with limited time a way to control their breast pumping sessions. However, it may also introduce complexity you do not need. After all, every situation is different, and you may find yourself manually shutting things off before the timer ends.
2 – Easy USB Charging – This wireless breast pump also offers a charging cable for home use or convenience on the go. It works with most computer, mobile gadget, or car chargers. This is one of the must-have options for modern mothers who do not stay at home for long periods of time after they welcome a new son or daughter into the family.
The Freemie wireless breast pump works well for women who need a wide variety of settings to try and prefer to express milk on a set schedule with the conveniently included timer.
Medela Pump On-the-Go Pack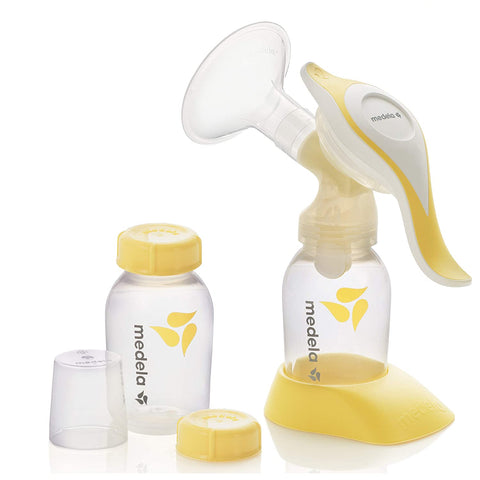 While the other wearable breast pumps on this list focus on small size for discretion and convenience, the Medela Pump pack comes in a convenient black tote bag and carrying case. It is a larger and more complex option that many women may find more suitable for using at home than on the go. However, the entire pump and tote package is specifically designed for convenience and the ability to carry along more essential gear like bottles, a scarf or blanket for coverage, and more.
The pump itself is built into the bag, which hides it to some degree if you want to remain discrete about the mechanism you use for breast milk expression. You have the option of choosing and included power cord or a battery pack, which can use rechargeable batteries for more eco-friendly and convenient operation.
1 – Carry Everything You Need – There is much to be said about a small, hands-free breast pump that easily fits inside a bra cup. This product does not offer that as it uses more traditional bottles for milk collection. However, the included tote bag and case makes carrying everything around with you quite simple. In many cases, you need more than one simple pump to get the job done completely. It can give women peace of mind in case of leaks or malfunctions, too.
The Medela Pump wearable breast pump is just one of the models from this brand. They also offer smaller, more discrete options. This one is included in the list to give new mothers a look at the diverse range of options available.
2 – Power and Battery Backup – With the two possible modes of powering this breast pump system, you have options for longer trips away from home or emergency situations where you may not be able to access a power source. Unlike other products on this list, the Medela pump is not truly wireless because it is not rechargeable in and of itself.
Spectra 9 Plus Wireless Breast Pump
Although this Spectra 9 breastfeeding pump is rechargeable and has wireless usability, it does come with a unique feature of a handheld controller that is attached to the wearable breast pump by a wire. This makes it a bit less portable than other models with setting buttons on the mechanism itself. However, it also gives a more convenient level of control for women who want to change the settings during the pumping process. The LCD screen is easy to read, and the controller only has four buttons that cycle through the different suction, pump, and other features.
1 – Use Single or Double Pumps -- You can control one or two wearable breast pumps with the same controller for ultimate convenience. This makes it more flexible for different women who experience different lactation.
2 – Very Lightweight – The whole thing only weighs half a pound, which makes it quite comfortable to use for most women. Part of the comfort comes from the fact that the motor and settings controller is a separate device you hold in your hand. However, some do not like that feature as it becomes more difficult to hide process in a discreet way from others.
The Spectra 9 Plus hands free breast pump works well for women who do not mind a handheld controller connected by wires to the cups.
Elvie Quiet Wireless Breast Pump
The small and quiet, hands-free breast pump from Elvie offers one feature not found in the other recommendations in this article: a connected phone app. The overall shape of the mechanism matches many of the others. It consists of a rounded oval that fits neatly into most bras without challenging your need for discretion during the pumping process. It is fully wireless and rechargeable, so you never have to get stuck in place unless you want to take the time to sit back and relax. The small, attached breast milk reservoir is easy to empty into a bottle or other storage container before cleaning.
1 – Free Tracking App – Modern mommies may love the ability to keep track of everything from pumping times to milk volume. The free and user-friendly Elvie app is not required to use the hands free breast pump, but it may help give you peace of mind knowing how much you can express for your son or daughter. It also allows you to control the settings on the pump while using it if you prefer more remote flexibility.
2 – Automatic Mode Switch – Another useful feature of this wireless breast pump includes an automatic switch between modes for maximum hands-off usability. This means you do not have to press any buttons or change any settings during the process itself. While this offers a high degree of convenience, it may not work as accurately for all women as they would like. The automatic pause when the bottle fills up does reduce the chance of spills or leaks.
Willow Wearable Breast Pump
Perhaps the most discrete option is the Willow wearable breast pump that has no external motor or controllers at all. The smooth shapes you turn on with the press of buttons fit neatly into most bras for most women. They are completely wireless, have multiple settings you can adjust during use, and use patented technology to ensure no spills. The main fact against this brand is the extremely high price. They retail for about $500.
1 – Multiple Sizes – The goal is to allow any woman to use the hands free breast pump without any issues. Therefore, this brand offers three different sizes to choose from with three additional sizes of inserts that help create a leak-proof seal in the most comfortable way possible.
2 – Sleek and Discrete Design – Although this pump has all the necessary motors and controls, it exists only as to smooth, egg-shaped devices that latch on securely and collect your milk in small, ring-shaped bag containers. You can wear them inside your bra anywhere and go about your business with the most discretion possible while using a breast pump.
The Willow wearable breast pump offers easy sizing and the convenience of disposable collection bags at a premium price.
The choice of which wearable breast pump to buy before your baby comes home depends on a wide variety of factors. For many new mothers, cost is one of the major determinations. While pressing breast milk is one of the most important and essential tasks you will need to perform, that does not mean you need to spend hundreds of dollars to do so.
Customization options matter more than most other determining factors. You know your body best, and you know which settings will be the most effective for this process. Choosing a first pump with more available may make sense because you can experiment with different ones at different times during the pumping process.
Finally, discretion matters if you intend to use the wearable breast pump when you are away from the privacy of your home or if you are not comfortable using one otherwise in front of family. Your comfort levels matter as this will create a lower stress environment to perform a sometimes already stressful activity. Smaller mechanism sizes and the ability to wear them inside your bra can help you stay active without feeling plugged in to a machine.
---