Best Hands-Free Breast Pump: Elvie vs Willow (2021)
You have to be very careful before choosing a breast pump because your baby's health depends on it. You also have to take care of yourself because excess use of breast pumps can affect the underlying tissue of your breasts. Many companies are producing these products for the comfort and convenience of mothers. However, you have to know the difference between each of them.
If a product suits one person, it does not mean it will suit you that way. You have to do your research to choose the best for yourself. Two of the most prominent and important companies that are producing breast pumps are Elvie and Willow.
Both have a significance of their own however you have to choose the one according to your requirement and convenience. It is important to know the differences to make the better choice that is beneficial for you and your baby.
Elvie vs Willow (2021): Everything you need to know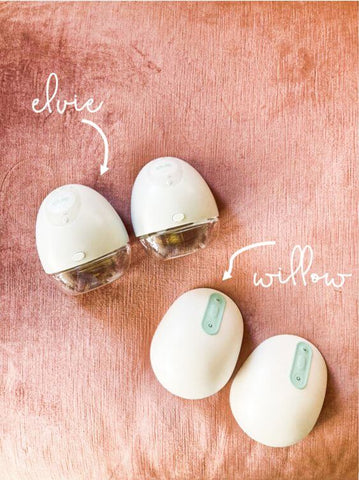 We will discuss some of the main differences between them to provide you with a better idea. You can choose according to your requirements and convenience. It is also important to consider various things before choosing a breast pump.
Price comparison:
First of all, you need to be aware of the price. The double pump of Elvie will cost you $499.However, the important thing about it is that it comes with various other parts that can help you get beneficial results. The extra parts will add more to your convenience.
You can get a Willow breast pump at the same price. However, it comes with the company's storage bag and other accessories. If you want to purchase proprietary bags And Reusable milk containers from the Willow Company, you will have to pay an extra $50 for it. Overall it costs more to purchase from the Willow Company.
Storage capacity comaprison
It is also one of the most important things you have to keep in mind before purchasing a breast pump. The storage capacity you can get from the Elvie is 5 oz, equal to 150 ml bottles.
It is the best option if you want to store more milk. It is also recommended for new mothers because sometimes they have a problem with pumping. It will keep the milk Stored for the baby. When it comes to willow, you can get 4 oz equal to 120 ml bottles or reusable containers. It would help if you chose according to your requirement of milk that you want to store.
Spill-proof capability
It is very important to have the spill-proof capability in your breast pump so that the milk will not get wasted. You have to check it before producing any breast pump, as it is important to keep your milk secure. You will not get spill-proof capability when it comes to Elvie. However, you can get this feature from willow very effectively. It will not let the milk spill as it has a spill-proof capability designed by the product maker. If you have to move a lot and work while pumping, it is recommended to go for the willow to save the milk from getting wasted.
Sizes in which you can get the breast pump
Both the companies will provide you multiple sizes of breast pumps according to your convenience. You can get your accurate size so that it will be more effective and comfortable to use. You can get the sizes of 21mm, 24mm, and 28mm From Elvie.
 You can get the same sizes with a little differentiation from the willow, which are 21mm, 24mm, and 27mm. It is very important to purchase according to your size because it will help you in avoiding inconvenience.
Parts of the pump you have to clean after use
It is important to take care of hygiene because you have to protect your baby from catching diseases from unclean products. There are several parts you have to clean after every use. When it comes to Elvie, You have to clean five parts.
 It is more convenient to clean the product when it comes to willow because you have to clean only two parts after every use. it can be three If you are using the container. The container also has to be cleaned to stop bacteria from the lactose present in milk.
App and sound
Application for both the companies can be installed in Android and IOS. You can use any model of iPhone or Android to get connected with your breast pumps. However, Elvie is silent. It does not produce any sound while using. Willow comes with a sound.
It will provide you with a sound when it is in use. You can change the modifications in both of them according to their convenience and the place.
Battery
They both are wireless which means you can purchase them for one breast or both. They will not be connected with any wire, which means they are very portable and can be used conveniently. The battery for the Elvie takes 2 hours to complete recharge. It can be used for two and half hours while pumping.
The willow also takes 2 hours to charge however they can be used for up to 5 hours in the process of pumping. If you have to travel a long distance, it is recommended to go to purchase breast pumps of willow. They will provide you with more time for pumping and a longer battery.
Customer care
Both of the companies provide you with customer care. You can Email Elvie. They will only respond to you through email. However, you can also text and call the willow. They are always available for their customers and will respond to you immediately if you call or text for any query.
Conclusion
Some of the important differences between both of the companies are mentioned in detail. You can take a look and choose according to your requirement. If you want to have better results, it is important to contact both of the companies and gather more information. You should have your complete research if you want to stay safe and avoid any inconvenience.
---